Hi everyone!
This is my very first blog post! How exciting is that?
Today I'm going to reviewing the Face Atelier Ultra Foundation. I wanted to review this because it's very popular among pro artists and I found very few reviews for it. I love reading reviews before buying something, so hopefully this will help. If you don't know about Face Atelier, they are a company based in Canada and all of their products are 100% vegan! This foundation claims to be long lasting, highly pigmented, and have buildable coverage with a natural satin finish. It also claims that you don't need a primer because it's silicone based! Sound too good to be true?
This foundation comes in 16 shades, 12 skin tones and 4 adjusters, and 2 sizes, 1 fl oz (30 ml) and 0.68 fl oz (20 ml). The big bottle is perfect for consumers and the small bottle is perfect for pro makeup artists or a consumer who rarely wears makeup. The foundations have a neutral/yellow undertone; it's not too pink, or too yellow. There should be a match for everyone. If not, that's what the adjusters are for!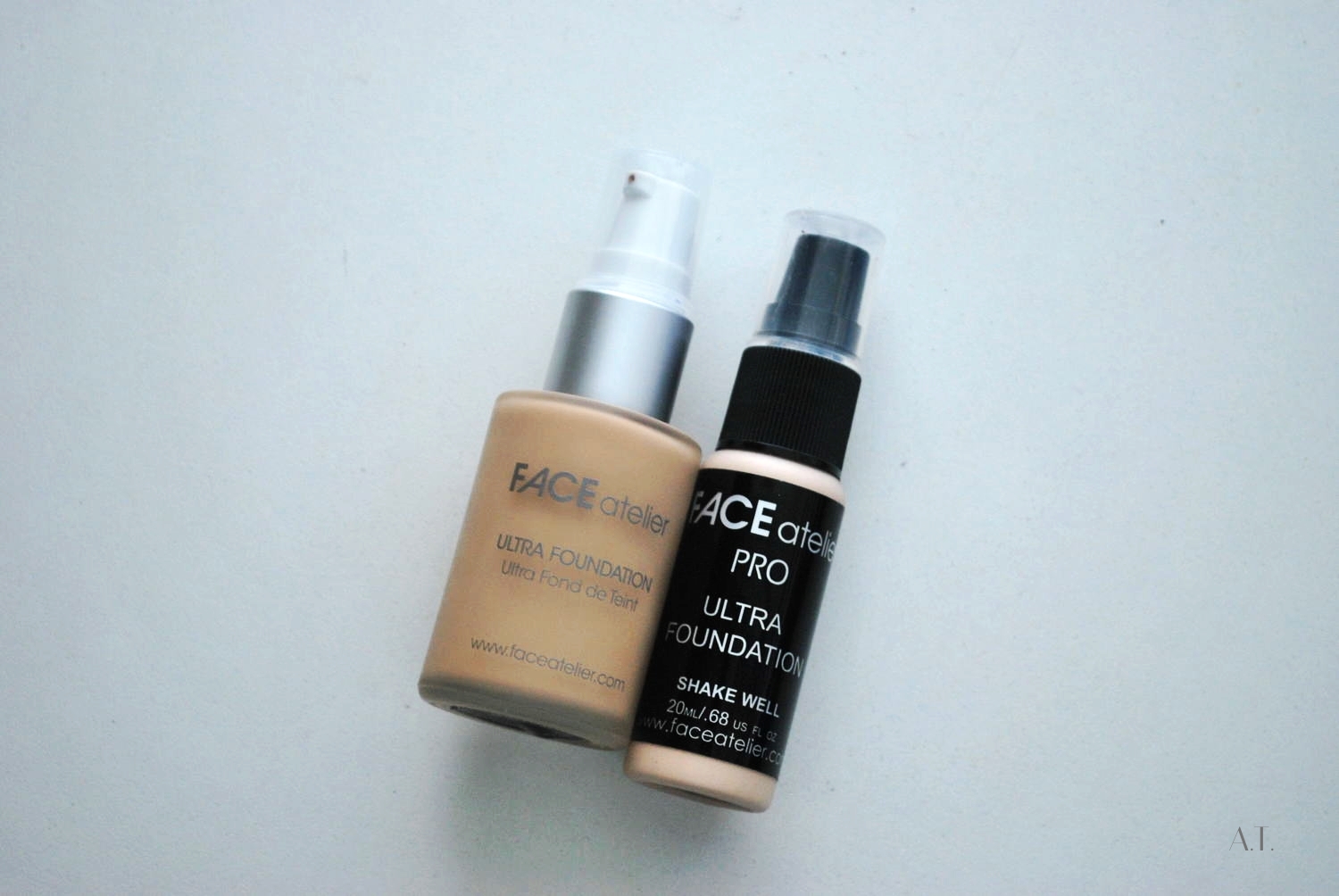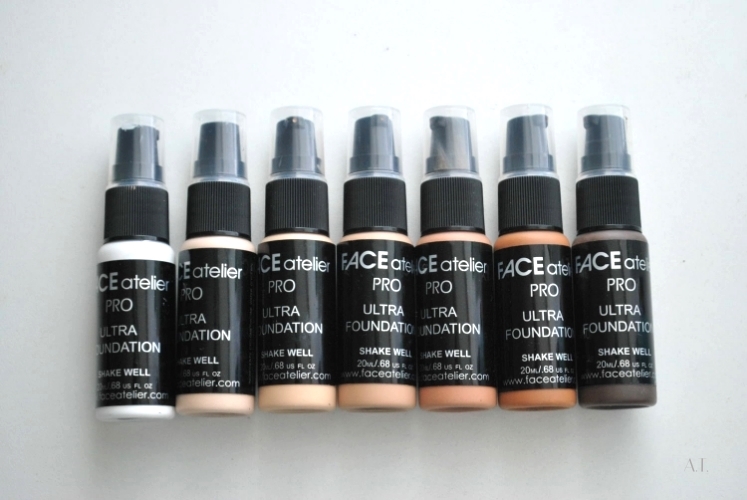 If you're confused about the adjusters, hopefully this will help. 0- (white) can be added to lighten your foundation, ideal for winter or highlighting your face in certain areas. 0+ (warm brown) can be added to add warmth to your complexion, ideal for spring or summer when you get tan. 0++ (neutral/cool brown; my favorite!) can be added to create the perfect sculpting shade for any skin tone! Heat (coral/red) can be added to get a slight pink undertone or a blush on darker skin tones. I suggest getting the small bottle of the adjusters because you literally only need a drop. It'll last you for years.
Onto swatches. I bought the shades 1, 4, 7, 9, 11, 0-, and 0++. I only have 7 because I'm a pro and I can mix shades to match clients/models. Who wants to carry 16 bottles of foundation? Not me. My sister has the shade 6 so I'll add that in.
Here's an example of the adjusters being used on the shade 6:
OK..here are the good bits. When I first tried this foundation on myself I was BLOWN AWAY at how amazing it is. It truly does have buildable coverage AND it looks like skin. The texture is very liquidy and silky at the same time. It reminds me of the NARS Sheer Glow, which is one of my favorites. This foundation is also very lightweight; it feels like nothing on my skin. With one layer on, it has medium coverage; I can see a few scars peaking through, which I like because it won't look like I'm wearing makeup. I can put on a second layer to get full coverage and it will still look like skin. This foundation will NOT get cakey. Ever.
Here's a picture of me wearing FA Ultra. No Facetune (ugh don't get me started), no Photoshop, and no filters. Flash friendly!
This foundation is great for people with dry to combination skin, and people of all ages. It's absolutely perfect for older people. And it's great for men (like me!). For those of you with dry to normal/combination skin, you definitely don't need a primer or a setting powder. Avoid powder if you want to keep that beautiful satin finish. If you have oily skin, you might need an oil absorbing primer and a setting powder. My favorite primer is the Nurturing Force Blot Out Offensive. Probably going to do my next review on that. Anyway, I have combination/oily skin and I find that it lasts a good 8 hours. I do look shiny at the end of the day, but it doesn't crack or break up on my forehead like other foundations, and it doesn't look greasy. You can carry around blotting papers or no color powder (Kett Sett! Doing a review on that too) if you want to touch up.
My favorite way to apply this is with a BeautyBlender. It's the best thing ever. I dot it all over my face or my client's face and blend using the side of the sponge because that's how I like to use it. You can use the bottom of the sponge if you prefer. I tried using the Morphe G6, Bdellium 953, Real Techniques stippling brush and expert face brush. The BeautyBlender knocked them all out of the park.
Face Atelier Ultra is amazing for everyday as well as special occasions. It's perfect for brides because it photographs beautifully.
You can buy Face Atelier's products from Camera Ready Cosmetics, Nigel Beauty Emporium, or directly from Face Atelier.
Ingredients: CYCLOMETHICONE, AQUA, GLYCERIN, ALUMINUM STARCH OCTENYLSUCCINATE, POLYGLYCERYL-4 ISOSTEARATE, CETYL PEG/PPG-10/1 DIMETHICONE, HEXYL LAURATE, POLYGLYCERYL-3 DIISOSTEARATE, MICA, QUATERNIUM-18 HECTORITE, PROPYLENE CARBONATE, CELLULOSE GUM, NYLON-12, TRIBEHENIN, LAUROYL LYSINE, TRISTEARIN, PHENOXYETHANOL, METHYLPARABEN, PROPYLPARABEN. MAY CONTAIN: TITANIUM DIOXIDE (CI 77891), MICA (CI 77019), IRON OXIDES (CI 77491, CI 77492, CI 77499).
-A (Ooh I feel like A from Pretty Little Liars)
Disclaimer: I did not receive any money to talk about any brands mentioned above. I bought these products with my own money. All opinions are also my own.
All pictures belong to me and may not be used without my permission.